Moderators: AndyB, colcool007
As I kid I never liked Flying Saucers they were over before you knew it (hate the feel of polystyrene and cotton wool arghh). Sadly I'm at the age where I go to nostalgia sweet shops and start trying old stuff mostly to my disappointment as my palate has changed as I get older of all my old favs (MB Bars, Kola Kubes, sherbet fountains, White Mice, Swizzles /Parma, Violets, and Coconut Mushrooms,) are way to sweet only Chelsea Whoppers (although now as flat as a piece of paper) and Spanish Gold have stood the test of time - Spangls and jelly snakes et I have yet to try again.
---
Mr Valeera
Posts: 3853
Joined: 03 Mar 2006, 18:06
Location: Lost in time, lost in space
Contact:
If you can find Spangles, it'll be a miracle. They aren't made anymore.Wah!
I started to say something sensible but my parents took over my brain!
---
I couldn't get enough sweets as a kid, and I still buy them now.
Did anyone used to like the Pink Panther Bar?
---
Does anyone remember these Roy of the Rover bars or biscuits from Burtons, someones selling the wrappers on ebay for £9.99.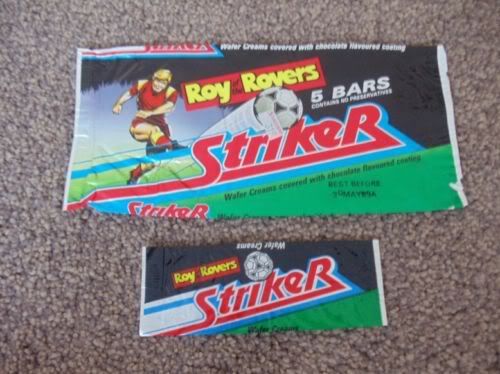 ---
---