Due to the current world events (Corona) the National Library of Sweden has opened up their vast collection of digitalized daily papers for everyones enjoyment. (Half of Swedens comic buffs are currently in the process of downloading the comic related content.)
What I found interesting was the development of George Martin's daily strip "Bunion". I had never before seen the early strip and was suprised to see how different his style was then.
"Bunion", who in Sweden got the name "Kulman" (a pun that's roughly translated to "fun-man"), did get published mainly by the Swedish paper "Aftonbladet".
The Swedish name acctually was the result from a reader competition and "Kulman" was the chosen winning name.
The comic actually did ran twice in Aftonbladet. The first run lasted from 1/10 1953 to 4/1 1978. (There where several reader complaints about the removing of the strip and replacing it with the american strip "Shoe" by Jeff MacNelly. Mainly from kids who didn't find the later strip funny at all.)
The second run ran from 26/3 1985 to 18/9 1991, when it was forced out due to lack of space (the daily horoscope was moving in to the comics page).
Here are a few examples of different stages of the strip.
Published in 1953:

Published in 1954:

Published in 1955:


Published in 1964:

Published in 1977:

Published in 1985:

Published in 1990:
Published in 1991: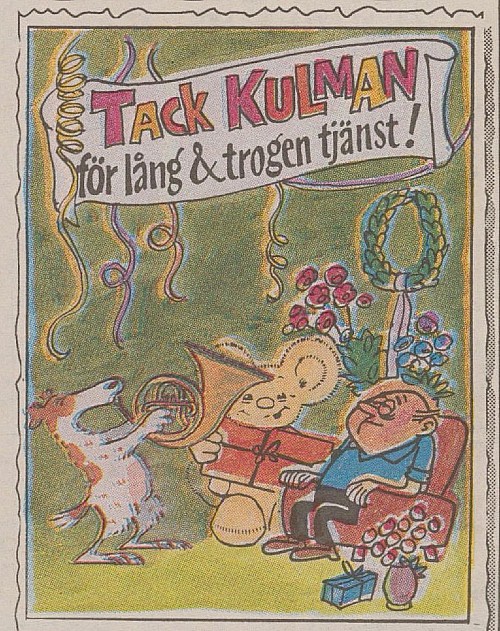 The last one reads "Thank you Bunion for long and faithful service" and are a collage with Aftonbladets two mascots "Jycken" and "Kluringen".